Instructions and FAQ for NetzBeweis
Frequently asked questions (FAQ) about NetzBeweis
What does Nils Glagau say about NetzBeweis?
NetzBeweis has won Carsten Maschmeyer and Nils Glagau as enthusiastic investors on "Die Höhle der Löwen". Nils Glagau explains in a video what convinced him about NetzBeweis and what happened after the deal. Click here for the video on Youtube.com.
How does NetzBeweis work?
NetzBeweis is available in two versions, theWeb Form and the Browser Extension. In both cases, the contents are automatically saved by us and provided with an electronic signature.
The form secures public websites and is free of charge for affected (private) persons. The form requires only the link and email address.
For private websites (e.g. behind login) and for businesses, the paid browser extension is required, which can be downloaded from the Chrome and Edge Store. With the extension, websites can be easily saved with one click. You can purchase a license for this directly from us or from our sales partners in Germany, Austria and Switzerland.
What does NetzBeweis cost?
For private persons affected by hate on the net and use NetzBeweis for themselves, this is free of charge. For companies that want to create this evidence for their customers or clients (e.g. lawyers), the use is subject to a fee. For use as an entrepreneur, please contact us at info@netzbeweis.com or you can also license NetzBeweis directly through our partners in Germany, Austria or Switzerland.
What does a NetzBeweis report look like?
Hate is a human emotion of sharp and persistent antipathy (Austrian Supreme Court - OGH). From a legal point of view, hatred on the Internet can be relevant under criminal law (e.g. defamation, threats, defamation of character), civil law (e.g. defamation of character) or data protection law.
Who can I contact if I need help?
How long do I have to download my report?
You have one week to download and save the report. After that, availability cannot be guaranteed. The report will be deleted after 1 month at the latest.
How can I check the validity of the electronic NetzBeweis signature?
The NetzBeweis report is automatically digitally signed by us before it is sent out. If you want to check the signature to ensure the creation time and that the report have not been modified, you can do so at: www.signaturpruefung.gv.at.
Is there also a legal assessment on the content in the NetzBeweis report?
No, NetzBeweis does not provide legal advice or legal assessment. Our cooperating attorneys in Germany, Austria and Switzerland will be happy to assist you. Just send us an e-mail to attorney (at) netzbeweis (.) com
How do I know if the statement/posting is illegal?
Our cooperation attorneys from Germany, Austria and Switzerland will be happy to assist you with a review of the content and the question of whether the report is suitable as evidence for your specific case! To do so, send us an e-mail to attorney (at) netzbeweis (.) com and we will be happy to put you in touch.
Who is behind NetzBeweis?
The founders of NetzBeweis are the lawyers Katharina Bisset and Michael Lanzinger and the software developers Thomas Schreiber, and Philipp Omenitsch. You can find more about us underAbout us.
Instructions - how to secure evidence with the web form?
If you use Twitter in the browser, you have the most flexibility to have reports generated. You can either save a tweet including the first level of comments, or focus on a comment that is saved with associated tweet and comments below it.
If the tweet is to be copied, this can be done in the browser's address bar by right-clicking:

If you want to copy a comment, you will find the link behind the date of the comment. Simply click with right mouse button and copy link.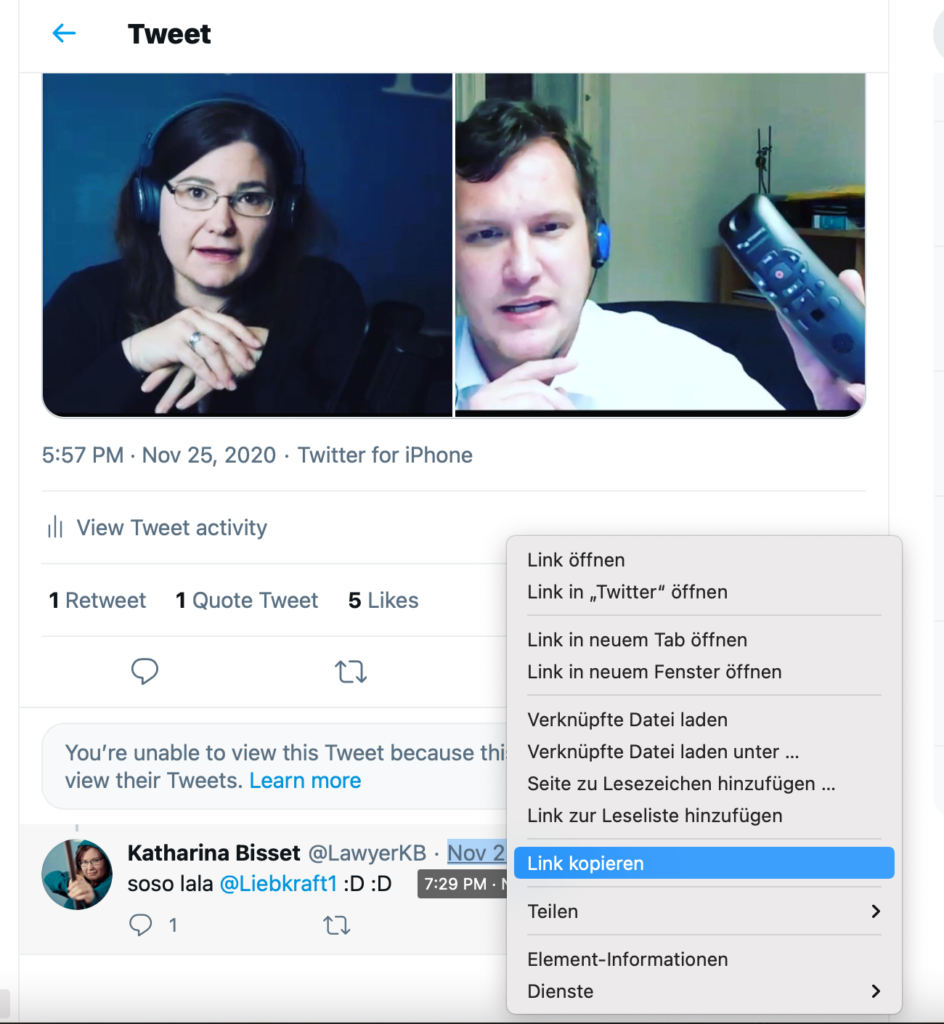 The copied link is then pasted into the designated field on NetzBeweis.

If you use Twitter on your cell phone, you can copy the link to a tweet, and paste it on the network evidence website.
For this you can use the "share" button in the Twitter app: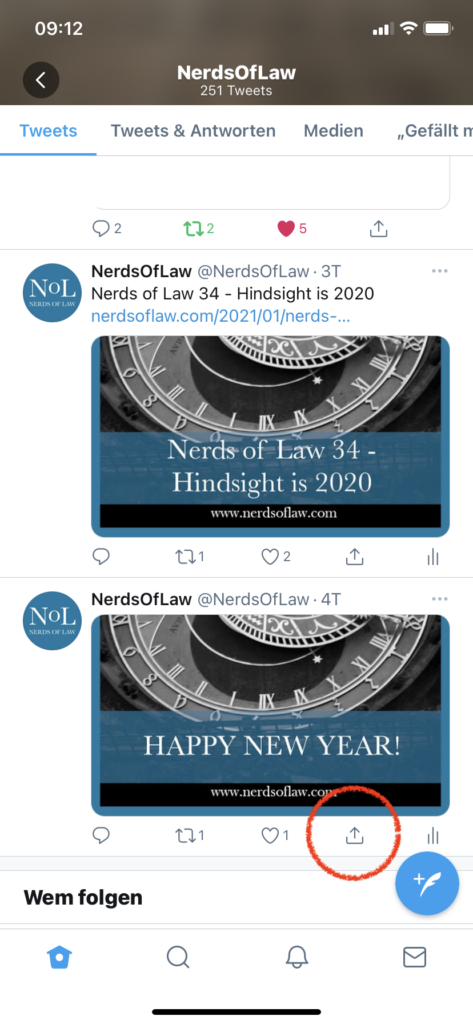 There is an option to copy the link to the tweet.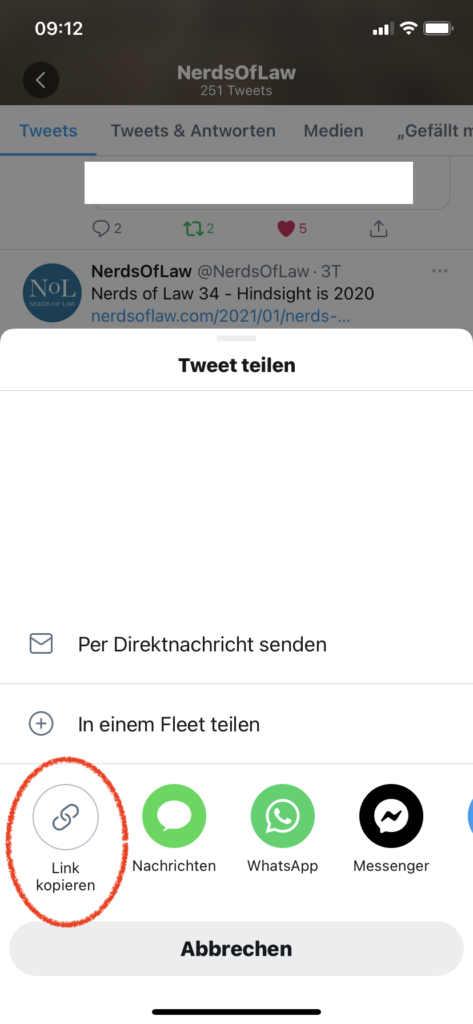 You can then paste the copied link into the appropriate field on netzbeweis.com/web .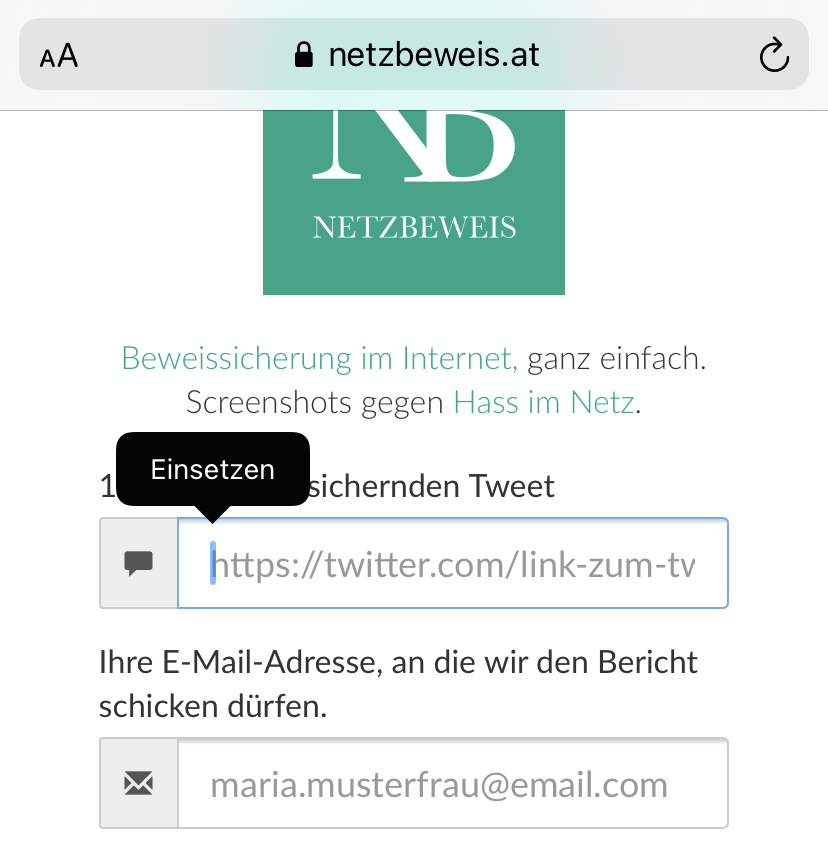 You want a NetzBeweis demo?
If you would like more information about NetzBeweis Extension, please feel free to send us an email request for a demo appointment. For information on the paid use of NetzBeweis, see Buy NetzBeweis.